Author: Succuba <succuba at elmki dot sulinet dot hu> dot
Download: SuccuNX.tar.gz
Description
Edit
This theme (SuccuNX) was derived from the theme called Copper.
SuccuNX theme was created by Succuba (succuba at elmki.sulinet.hu). It was four days hard work (and many system crashes ;-) for me to learn how to create a Sawfish theme. (Hmmmm... this is really a _sawmill_... my fingers... wooh...). I play the game with a Hungarian Linux distribution called UHU-Linux (UHU is an owl), with Gnome 2.0 and Sawfish 2.0 (?) I include the Gimp-template (SuccuNX-template-final1.xcf, which i use to create the graphic elements, for you, who want to work with it. The gtkrc I use is also included.
Love it, or leave it! (This "master"piece is absolutely freeware (and no warranty, of course).)
Screenshots
Edit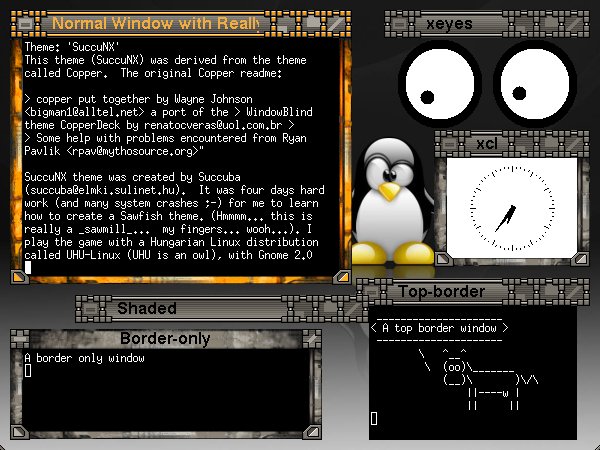 Ad blocker interference detected!
Wikia is a free-to-use site that makes money from advertising. We have a modified experience for viewers using ad blockers

Wikia is not accessible if you've made further modifications. Remove the custom ad blocker rule(s) and the page will load as expected.