Author: Jared Jennings <liver at soon dot com>
Download: sto3.tar.gz
Description
Edit
This is shamelessly ripped off of the s.t.o.2 theme. I wanted a new, non-flat look, but I still don't know LISP real well and I liked the feel of s.t.o.2 just fine. The size goes well with my 1600x1200 screen, too. I've noticed the existence of s.t.o.3 which is not the same as sto3. Sorry for the confusion.
Props for s.t.o.2 go to Michele Campeotto <golia at supereva dot it>
I've included the xcf files so you can play with them yourself if you want.
Screenshots
Edit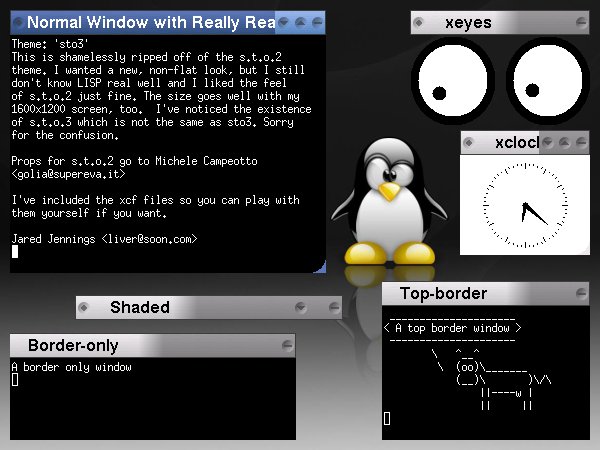 Ad blocker interference detected!
Wikia is a free-to-use site that makes money from advertising. We have a modified experience for viewers using ad blockers

Wikia is not accessible if you've made further modifications. Remove the custom ad blocker rule(s) and the page will load as expected.