Author: H dot F dot Hlodversson <keli at shebang dot dk>
Download: ST-Mono.tar.gz
Description
Edit
This theme is based upon how GEM looked on the Atari ST in "High Res". It is made with my Perl-Gimp port of Ian McKellar's Gimpmill.py (I couldn't get PyGimp to compile with my version of Gimp... :-)
Because of how Gimpmill handles overlays (by only allowing one overlay pr. state), I had to edit the resulting theme manually to remove the un-wanted highlights.
Note: This theme looks even better if you use Atari's 8x16 system font. STonX, the atari ST emulator for X11, contains utilities, that can rip the fonts from your ST ROM-image and convert them to pcf-fonts, you then can install in your font path.
To install, just move this directory to ~/.sawfish/themes/ or to the system-wide theme-directory. - Probably /usr/share/sawfish/themes/ or /usr/local/share/sawfish/themes/
Screenshots
Edit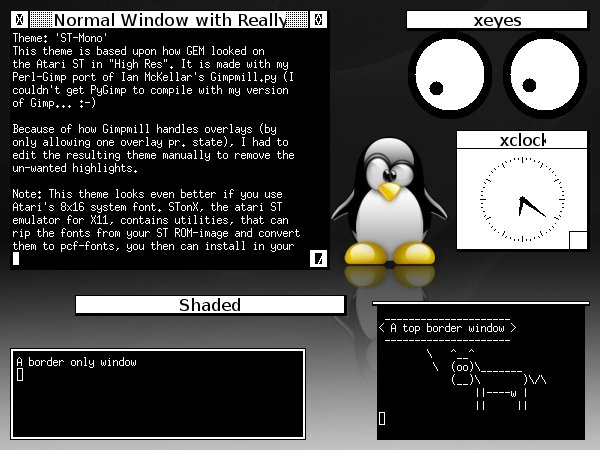 Ad blocker interference detected!
Wikia is a free-to-use site that makes money from advertising. We have a modified experience for viewers using ad blockers

Wikia is not accessible if you've made further modifications. Remove the custom ad blocker rule(s) and the page will load as expected.