A very unobtrusive and comfortable theme based on minimal, M3 and redline. This theme features a drawable line on the bottom and right the window, an iconify button in the bottom right corner and a title bar beside it. The width of the line around the window can be updated on the fly.
It is mainly based on minimal by Garcia Galego <rgarcia@eurielec.etsit.upm.es>, m3 by Jacob Berkman <jacob@helixcode.com>, and redline by Jonas Linde <jonas@init.se>.
Mogei Wang <mogeiwang@gmail.com> 2012-10-10
You can download it from:
http://code.google.com/p/iimw/downloads/detail?name=mwline.tar.gz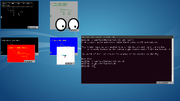 Ad blocker interference detected!
Wikia is a free-to-use site that makes money from advertising. We have a modified experience for viewers using ad blockers

Wikia is not accessible if you've made further modifications. Remove the custom ad blocker rule(s) and the page will load as expected.